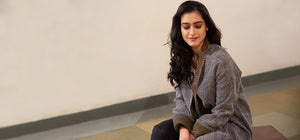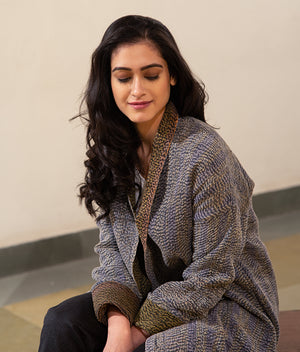 EACH PIECE IS HANDCRAFTED
Tulsi is a well-established brand that caters to the sophisticated and discerning taste of women who seek exquisitely crafted outfits. Our collection beautifully captures the essence of handwoven textiles, enabling you to showcase poise and charm.
Our most popular creations include kurtas, jackets, blouses, sarees, dresses, and pants made from fine cotton, pure linen, silk, khadi, and wool that are wearable and easy to maintain. To complement our garments, we offer exquisite shawls, stoles, and dupattas with gorgeous hand embroidery, kantha, and appliqué work. Additionally, we have a vast range of home furnishings, including jacquard throws, bed linen, and cushion covers in natural fibers and earthy colors, rustic prints, and patterns.
At Tulsi, we pride ourselves on our contemporary designs, intelligent cuts, and use of natural, high-quality materials that come at an affordable price. Our collection is timeless and functional, rather than trend-specific. If you're looking to buy luxury women's clothing collection, Tulsi is the perfect brand for you.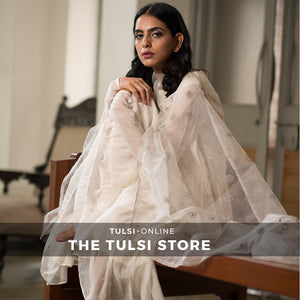 ★★★★★

I absolutely loved the saree!

.

Veenu Garg
★★★★★

I love this brand.The staff is too good.My experience in Neeru kumar's store is always excellent.They have
amazing cotton kurtas.

Neeru Jain
★★★★★

It's always been an amazing experience to shop with Tulsi, Love this brand !!!!

Neeru Kohli
★★★★★

Tulsi has been one of my favorite brands because of the grace and
elegance their clothes lend to the wearer. Have been referring friends
and patients to them for years

Dr.Simal Soin
★★★★★

I associate Neeru Kumar and every piece she creates with timeless elegance. I have been wearing clothes from Tulsi since 2005.

I am a Tulsi Woman through and through. Neeru's sensibility resonates with me completely - effortless elegance. I look for quality in cut, finish, fabric, design, value for money, service and each garment and staff members in a Neeru store speaks class. When I wear a Tulsi garment it makes me feel complete - as a woman and a person.
Thank you Neeru and to your entire team (a special mention to Haseena, Iram and Raju).

Gitanjali Rao